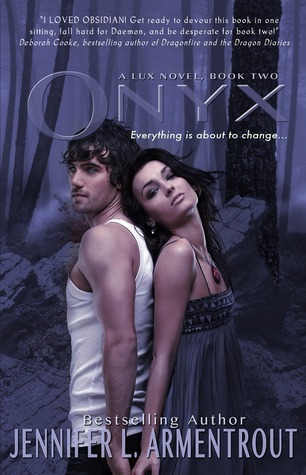 Series: Lux #2
366 p.
Publisher: Entangled Teen
Published: 8/14/12
Source: Library
Being connected to Daemon Black sucks…
Thanks to his alien mojo, Daemon's determined to prove what he feels for me is more than a product of our bizarro connection. So I've sworn him off, even though he's running more hot than cold these days. But we've got bigger problems.
Something worse than the Arum has come to town…
The Department of Defense are here. If they ever find out what Daemon can do and that we're linked, I'm a goner. So is he. And there's this new boy in school who's got a secret of his own. He knows what's happened to me and he can help, but to do so, I have to lie to Daemon and stay away from him. Like that's possible. Against all common sense, I'm falling for Daemon. Hard.
But then everything changes…
I've seen someone who shouldn't be alive. And I have to tell Daemon, even though I know he's never going to stop searching until he gets the truth. What happened to his brother? Who betrayed him? And what does the DOD want from them—from me?
No one is who they seem. And not everyone will survive the lies…
My thoughts:
I have been wanting to get back to this series for some time now. I finally made a bit of time for it. I have to say though, it took me a while to really get into the book. The first half of the book was rehashing their "romance" but I just couldn't get into it. I don't know if it is because it was so long after the first book or if it just didn't capture my attention.
Then the second half of the book came...
When Katy spies someone she shouldn't have seen I was totally into the story. I wanted to know more and I just couldn't put it down. The action and adventure after the half was what I wanted and what I was after, I think. I wasn't disappointed.
I give this book 3 1/2 stars. I recommend it to those that enjoy PNR YA and those that want to see a book blogger get the hot guy. ;)