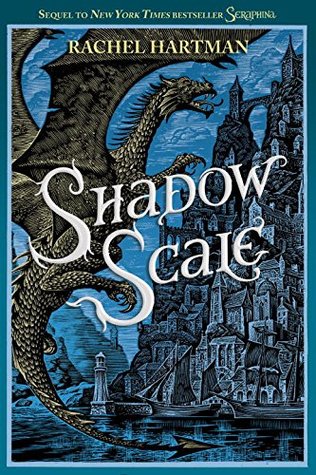 Series: Seraphina #2
608 p.
Publisher: Random House Children's
Published: 3/10/15
Source: ARC from publisher for review
The kingdom of Goredd: a world where humans and dragons share life with an uneasy balance, and those few who are both human and dragon must hide the truth. Seraphina is one of these, part girl, part dragon, who is reluctantly drawn into the politics of her world. When war breaks out between the dragons and humans, she must travel the lands to find those like herself—for she has an inexplicable connection to all of them, and together they will be able to fight the dragons in powerful, magical ways.

As Seraphina gathers this motley crew, she is pursued by humans who want to stop her. But the most terrifying is another half dragon, who can creep into people's minds and take them over. Until now, Seraphina has kept her mind safe from intruders, but that also means she's held back her own gift. It is time to make a choice: Cling to the safety of her old life, or embrace a powerful new destiny?
My thoughts:
I enjoyed the first book, Seraphina, but I think I ended up enjoying this one even more. The worldbuilding continues in this book and the worlds, both inner and outer, get even more detailed. I really loved traveling along with Seraphina.
Seraphina also comes much more into her own. The growth continues and she really questions ambitions and wants in a new way. She learns to discard things that were once a crutch to get through life and have now become a hindrance. We also see her reevaluate her idea of a utopia for half dragons. She finds that she never even considered how the others would view her utopia. I loved this growth in her. We also see that while the outer changes occur, they only anticipate the inner changes within everyone. It is a new world for dragon and human kind.
My only complaint is the romance. It doesn't quite live up to everything going on and I really didn't like how the romance was "solved" in the end. However, since it is a minor subject to the adventure at hand, it didn't bother me as much as it may bother some. The scope of the whole tale seemed to outweigh my need for romance in this book.
I give this book 4 1/2 stars. I enjoyed the first but this one really gave me more of what I craved. Answers take a while to get to but they are there! We not only see our heroine have inner growth but almost everyone she meets. I highly recommend this series to those that want to get into fantasy and those that already love it. It is a great story for the YA and adult crowd.
Giveaway!
The publisher has allowed me to give away this book to one lucky person! The giveaway is open to those in the US and CAN only. Just fill out the rafflecopter form below to enter. Good Luck!
a Rafflecopter giveaway