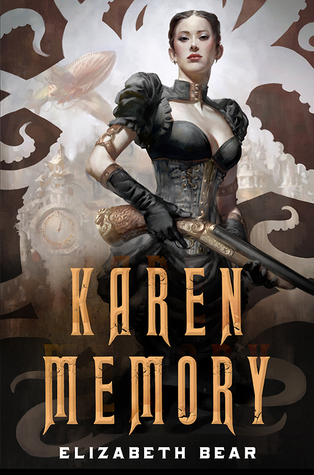 Standalone
352 p.
Publisher: Tor Books
Published: 2/3/15
Source: From the publisher for review
"You ain't gonna like what I have to tell you, but I'm gonna tell you anyway. See, my name is Karen Memery, like memory only spelt with an e, and I'm one of the girls what works in the Hôtel Mon Cherie on Amity Street. Hôtel has a little hat over the o like that. It's French, so Beatrice tells me."
Set in the late 19th century—when the city we now call Seattle Underground was the whole town (and still on the surface), when airships plied the trade routes, would-be gold miners were heading to the gold fields of Alaska, and steam-powered mechanicals stalked the waterfront, Karen is a young woman on her own, is making the best of her orphaned state by working in Madame Damnable's high-quality bordello. Through Karen's eyes we get to know the other girls in the house—a resourceful group—and the poor and the powerful of the town. Trouble erupts one night when a badly injured girl arrives at their door, begging sanctuary, followed by the man who holds her indenture, and who has a machine that can take over anyone's mind and control their actions. And as if that wasn't bad enough, the next night brings a body dumped in their rubbish heap—a streetwalker who has been brutally murdered.
Bear brings alive this Jack-the-Ripper yarn of the old west with a light touch in Karen's own memorable voice, and a mesmerizing evocation of classic steam-powered science.
My thoughts:
I didn't quite know what to expect from this book but the book is distinctively a steampunk western! It is like walking into an alternate universe where steampunk slightly changes the landscape we know through books and movies. We also get a good look at it since the author is so descriptive though our heroine, Karen.
Karen is a soiled dove. She is registered as a seamstress but the profession is a bit older that that. That fact makes it more of an adult book but there really is no heat in that area even though there are a few scenes with some romance. It is, however, light on the romance. While I did enjoy the worldbuilding and I could easily cheer for our lucky or unlucky (depending on how you see it) heroine, I loved the diversity in this book. The book is filled with diverse backgrounds and a few of them are based on real people (the note at the end of the book tells you who she chose to inspire various people in the book). I also felt that the history was well woven into the story.
I give this book 4 stars. I loved the blending of diverse characters and the history into this steampunk world. It isn't too heavy with steampunk that those that aren't mechanically inclined can follow easily and enough contraptions for those who are inclined will be entertained. It is a great way to get your feet wet with the steampunk genre.
I accidentally received 2 hardcover books instead of 1 so I decided to give the second one away. If you tried for it last month and didn't win it, here is your second chance! I'm only shipping to the US so if you have a US snail addy you are in luck! Just fill out the rafflecopter form below to enter. Good luck!
a Rafflecopter giveaway