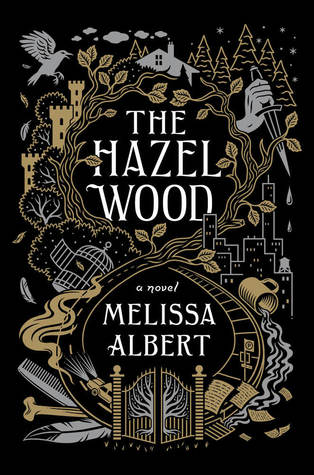 Series: The Hazel Wood #1
368 p.
Published: 1/30/18
Publisher: Flatiron Books
Source: NetGalley and Publisher for review
Amazon Affiliate Link:
http://amzn.to/2EDxRaB
Seventeen-year-old Alice and her mother have spent most of Alice's life on the road, always a step ahead of the uncanny bad luck biting at their heels. But when Alice's grandmother, the reclusive author of a cult-classic book of pitch-dark fairy tales, dies alone on her estate, the Hazel Wood, Alice learns how bad her luck can really get: her mother is stolen away―by a figure who claims to come from the Hinterland, the cruel supernatural world where her grandmother's stories are set. Alice's only lead is the message her mother left behind: "Stay away from the Hazel Wood."
Alice has long steered clear of her grandmother's cultish fans. But now she has no choice but to ally with classmate Ellery Finch, a Hinterland superfan who may have his own reasons for wanting to help her. To retrieve her mother, Alice must venture first to the Hazel Wood, then into the world where her grandmother's tales began―and where she might find out how her own story went so wrong.
My thoughts:
I didn't know what to expect with this book but dark fairy tale is something I do gravitate toward. I was not disappointed and really found the tale to be inventive and unusual. I did see some things that felt like retellings, but it really felt like something new.
I admit it took me a while to get used to Alice and really like her. Part of the problem is that it took a long while to get to Alice's true origin story. Even though that was frustrating in part, you also knew that when you got the story it would have to be close to the end and that it would bring all the elements together. I also was a bit frustrated with not knowing all the fairy tales we encountered. Like the stories were dangled just out of reach and I wish it came with a companion book of the fairy tales. Tales I know would be hard to read as the ones we got to know were dark as if the Grimm brothers took an even darker turn with their tales.
What kept me going was the mystery I was determined to solve and that I really started to like Alice. I really wanted a win for her and I wasn't sure this story would end on a positive note. I won't tell you if it does end well, but I will say that the story felt complete (despite it being the first in the series) and not everything ended in how most stories end. I'm extremely curious to where the author will take the next book.
I give this story 4 stars. Despite the problems I had in the plot, it was very readable and I also found it very unique. I also think that some of the problems with the plot were intentional. It mirrors Alice who is messy and dark and who we learn about as she learns about herself. There is great character growth in this book.
🔮