Series: Charley Davidson #11
Unabridged Audiobook
Narrator: Lorelei King
9 hrs. 18 min.
Publisher: Macmillan Audio
Published: 1/24/17
Source: Library
Series narrator Lorelei King returns to narrate Eleventh Grave in Moonlight, the latest installment of Darynda Jones' New York Times bestselling paranormal series.
My entire life can be summed up in one sentence:
"Well, that didn't go as planned."--T-Shirt
A typical day in the life of Charley Davidson involves cheating husbands, errant wives, missing people, philandering business owners, and, oh yeah...demons, hell hounds, evil gods, and dead people. Lots and lots of dead people. As a part time Private Investigator and full-time Grim Reaper, Charley has to balance the good, the bad, the undead, and those who want her dead.
Now, Charley is learning to make peace with the fact that she is a goddess with all kinds of power and that her own daughter has been born to save the world from total destruction. But the forces of hell are determined to see Charley banished forever to the darkest corners of another dimension. With the son of Satan himself as her husband and world-rocking lover, will Charley be able to defeat the ultimate evil and find a way to have her happily ever after after all?
My thoughts:
Ah, another good addition to the series. It brought me everything I was looking for... humor, adventure, more Reyes. Charley has been learning more about herself and I think this addition to the series is where she learns more about her gifts as well as exactly why she has them. We still have more information to procure, but this one seems to be on a faster track than the other editions in this area. We also get the usual ghosties that need help and an adventure with Ubie which really brought out the caring in his character. Reyes is still a bit too closed up but I think it may come with good reason.
...and then just as I was enjoying myself wondering where the next shoe would drop... it dropped. It dropped hard and then just ended. I knew there was going to be a cliff hanger, but honestly this one worries me more than the other cliffies. With the others, I just wanted to know how it would happen but this one may be a bigger problem than the others. I cannot say, but I will say it was a shoe the old woman could move into and live comfortably with all her kids. Wait... why am I talking shoes? Oh yea, it's a Charley thing. 😏
Seriously though... one note to the author about that cliffie... Darynda, I need you to go to your room and think about what you have done. Also, gimme the next book. :D Oh and Lorelei don't think you are getting off easy either. You have brought such life to these characters with your narration I need you to go to your room as well and think about how much this has affected all of us readers/listeners.
Yea, you can say I'm addicted to this series and love it so much I'm willing to send people to their room for making me worry. If you have not started this series you so need to get on that. I also have a suggestion. Try the audiobook. Even if you don't usually like audiobooks, this one really brings it to life and it may change your mind.
And since it is Wishlist Wednesday... I nominate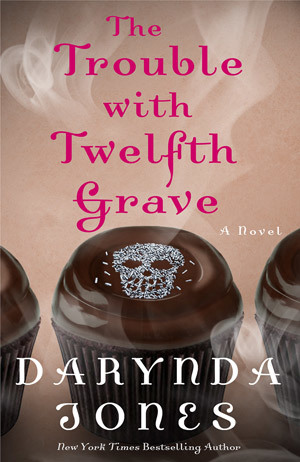 The Trouble with Twelfth Grave by Darynda Jones
Published: 10/31/17
Audiobook shortly after...
I don't want to publish the blurb right now since it may contain a spoiler I didn't want to share in the review. 😊 Still... grabby hands! 😁