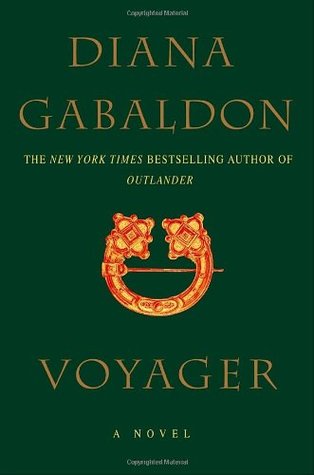 Series: Outlander #3
870 p.
Publisher: Delta
Published: 12, 1, 1993
Source: TBR pile
From the author of the breathtaking bestsellers Outlander and Dragonfly in Amber, the extraordinary saga continues.
Their passionate encounter happened long ago by whatever measurement Claire Randall took. Two decades before, she had traveled back in time and into the arms of a gallant eighteenth-century Scot named Jamie Fraser. Then she returned to her own century to bear his child, believing him dead in the tragic battle of Culloden. Yet his memory has never lessened its hold on her... and her body still cries out for him in her dreams.
Then Claire discovers that Jamie survived. Torn between returning to him and staying with their daughter in her own era, Claire must choose her destiny. And as time and space come full circle, she must find the courage to face the passion and pain awaiting her...the deadly intrigues raging in a divided Scotland... and the daring voyage into the dark unknown that can reunite or forever doom her timeless love.
My thoughts:
I have absolutely loved the first book. I will recommend that book to everyone. I had a lukewarm feeling with the second book but still liked it despite the plot holes. Um... this one. Well, let me say it took me FOREVER to finish the book and even when I liked it more toward the end I was sort of tired of it but refused to not finish it. Now don't let me discourage you as I was in a bit of a reading slump and I also suspect that this played a part in how I felt. So, do take what I have to say with that in mind.
THIS WILL HAVE SPOILERS
as I didn't know how else to talk about it. Knowing this, and you are okay with it proceed... otherwise skip to the last paragraph.
I was giddy trying to figure out how Claire and Jamie would get back together. You go from what they figured out happened to Jamie and then you get details of that in the past. Everything was a bit slow but all worked for me. Then they got back together and I thought it would really take off from there. The action didn't quite work for me, but I cannot say it was slow. Suddenly our Jaime who lives by his moral code has no problems becoming a smuggler which would be fine if there was no other choice to feed his family and tenants. However, even though this was suggested, it really didn't quite make it no other choice for me. It was still a minor niggle for me however.
Skipping to them going back to Lallybroch and this is where I have my biggest problem. In fact I almost stopped reading it. Here is the big spoiler: He married Laoghaire! Okay, I would actually have understood if he slept with her because he was lonely and grieving and she was still after him... but married? Um... no. This makes no sense to me even with the weak explanations given as to why. It would have made more sense that he was like a father to her girls because they needed someone rather than marrying Laoghaire. This does not make sense with the Jaimie we knew in the last 2 books. Besides he couldn't even stand the sight of her previous to Culloden. Even if he didn't know how she tried to have Claire killed, he knew she had a hand in making her life miserable (and I don't buy that he didn't have a clue that she tried to kill Claire since he acted otherwise). How he handles it is even worse and I was upset at how easily Claire forgives him. *sigh*
Things proceeded from there and started settling me down. However, the plot holes didn't end for me and when they were in Jamaica some of the characters they introduced were quite interesting but just didn't get as fleshed out as I would have liked. How they suddenly fit into the scheme of things became too convenient and the reintroduction of a character we thought was dead just didn't quite make sense either. This part wasn't horrible but it just felt like a plot twist that was just didn't quite work for me. Also things ended in a much too easy manner but I will say at least it felt complete despite the cliffie-like ending.
I give this book 2 stars. I will continue with the series as I didn't hate the ending and even though I didn't love how the characters were portrayed, it felt like it was trying to get back on track to what I previously enjoyed about the series.