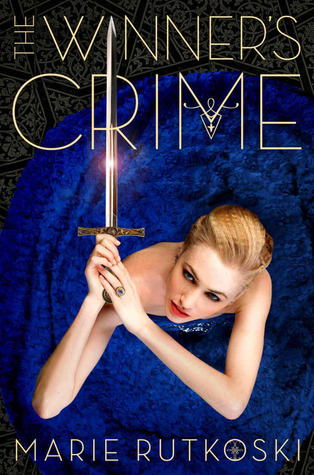 Series: The Winner's Trilogy #2
416 p.
Publisher: Farrar Straus Giroux
Published: 3/3/15
Source: Library
Book two of the dazzling Winner's Trilogy is a fight to the death as Kestrel risks betrayal of country for love.
The engagement of Lady Kestrel to Valoria's crown prince means one celebration after another. But to Kestrel it means living in a cage of her own making. As the wedding approaches, she aches to tell Arin the truth about her engagement... if she could only trust him. Yet can she even trust herself? For—unknown to Arin—Kestrel is becoming a skilled practitioner of deceit: an anonymous spy passing information to Herran, and close to uncovering a shocking secret.
As Arin enlists dangerous allies in the struggle to keep his country's freedom, he can't fight the suspicion that Kestrel knows more than she shows. In the end, it might not be a dagger in the dark that cuts him open, but the truth. And when that happens, Kestrel and Arin learn just how much their crimes will cost them.
My thoughts:
Finally got to get into this book! I've been wanting to read it for a while and made time to read the series. So, I'm reading the book really getting into it... the ending comes and although it feels like a complete book, there is a sort of cliffie ending to it. No probs. The library has the next book... THAT WAS ALREADY CHECKED OUT! Oh person who has this book... you are killing me!
As for this book... we start right after the first book ended. It didn't take me long to get back into this world and this world is filled with intrigue and the King seems to be the one with all the knowledge playing all his subjects like puppets. You never wanted a king to fail more! And as cunning as Kestrel is, her heart is what makes her a good heroine. You feel for her even when what she does paves the proverbial road to hell. Every. Time. Ugh. It's frustrating, but in the way it is supposed to be and you crave an HEA even more by the end of this book. So, that is why the person who has this book is KILLNG ME by getting to read it first. :)
I give this book 4 stars. It is a good follow up but will break your heart repeatedly. So make sure you have the next book handy to read it quickly after. :) I recommend it to those that enjoy fantasy.