Well, if you have been following this blog, you may notice I have only done one other Q&A post. I read so many good posts like this, I often feel inadequate and have a hard time coming up with really good questions. Luckily, Jennifer Estep has great answers to my so-so questions. So, without further ado... here is my rarely presidented Q&A with Jennifer!
~~~~~~~~~~~~~~~~~~~~~~~~~~~~~~~~~
Thanks Jennifer for coming on the blog! First, I'd like to ask is what inspired you to write this book?
JE:
I've always loved mythology, and all the stories of the gods, goddesses, monsters, heroes, and more battling each other and going on these epic quests. One day, I thought it would be cool to write my own mythology-based story with my own characters, magic, and world building. That was the beginning of Touch of Frost and the rest of the books in the Mythos Academy series.
What makes the world in this book different from your other paranormal books?
JE:
The biggest difference is that it's mythology-based. I'm taking a lot of Greek and Norse gods, goddesses, monsters, and myths, and putting my own spin on them. I think folks will recognize a lot of the gods that I'm using, like Loki, the Norse trickster god, but I hope they enjoy how I use the myths to create my own world and story.

Also, Touch of Frost is a young adult book, so the overall tone of it and the rest of the books in the Mythos Academy series isn't quite as dark and gritty as that in my Elemental Assassin adult urban fantasy books. But I think folks who like my adult books will find a lot to like in the Mythos Academy series as well, including a strong, sassy heroine, magic, lots of fight scenes, and a little romance.
Oh, I love books on mythology! If the mythologies were real, what God/Goddess do you feel you are descended from? What powers do you have?
JE:
Hmm. That's a tough one. I would have to say Skadi, the Norse goddess of winter, just because I have always seem to have cold hands, no matter how hot the temperature is. LOL.
You know what they say... cold hands, warm heart. ;)
So, who would you
like
to be descended from? What powers would you love to have?
JE:
I think it would be cool to be descended from Nike, the Greek goddess of victory, and to have the power to never be defeated at anything. It would also be cool to be descended from someone like Athena, the Greek goddess of wisdom, and know the answer to everything, or Hephaestus, the Greek god of fire (and a whole bunch of other things), and be able to craft anything I wanted, whether it was weapons, sculptures, or jewelry. That's one of the things that I love about mythology – that there are all of these gods and goddesses from all these different cultures that have these amazing powers.
Oh I agree... what great choices!
I love snark. Where does the snark come from when writing Gwen?
JE:
I think it just comes from Gwen's character. Gwen doesn't think that she's a real warrior whiz kid, not like the other Mythos Academy students are, and she doesn't feel like she fits in at all at the academy. So the snark is something that helps her cope, sort of a defense mechanism to keep up this tough façade on the outside when she really doesn't feel strong at all deep down inside.

Are you snarky in real life? :)
JE:
Snarky, sassy, and sarcastic. Not necessarily in that order. I also love to make people laugh, so a lot of the snark, sass, and sarcasm is directed at myself in a self-deprecating sort of way. LOL.
Oh , I have no idea what that is like... *cough* lol
Using the idea for a 6 word story, tell us something about Touch of Frost.
JE
: Myths, monsters, magic, and mean girls.
Ooooh good answer!
Now, I know you are a big football fan. Is it possible to cheer for you to cheer for the best team? Of course, I am talking the
Denver
Broncos
. ;D
JE:
I love football, and I thought it was really cool when John Elway finally won his two Super Bowls with the Broncos. Generally, I root for the AFC teams over the NFC teams so the Broncos are okay with me. ;-)
Ah.. memories. lol *sigh* So nice when someone remembers that! *Holds up game-time beer* Cheers to a great football fan! :)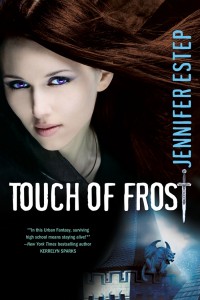 Giveaway!!
Jennifer is giving away a copy of her newest book, Touch of Frost to one winner!! It is open to US and Canada only. All you have to do is comment below! Just make sure there is an e-mail addy included if you don't have one in your profile. I'll end the giveaway on the 9th.
Giveaway is now over!
Don't forget... First Frost, the prequel is out now in ebook format!
It's only 99 ¢