Tell Me Something Tuesday, a meme started by CambriaHebert, but now hosted here on Rainy Day Ramblings. It is a chance to get to know your fellow bloggers by sharing fun stuff, discussions and more. Grab the question and post your answer on your blog and link up! Have fun!
Question:
Novellas...how do you feel about the current trend of novellas? What do you like about them? What don't you like?
I like novellas when they are a part of an overall series. I like it when it fills in the gaps. Books like:
Nice holiday theme. Can be read as a stand alone, but much better within the series (Bigtime series for this one). Sometimes these are fun! (
Review
)
(
Review
) This was a gap filler (#5.5) for those of us itching for the next book.
Same with:
(
Review
) And trust me, I do want that next book (this one is #2.5), but this one helped...
Then you have stories that only serve to frustrate you because it is NOT part of a series and you desperately want it to be one! :D
(
Review
)
Which was part of an anthology (as some of the novellas you can get now were) and also leads me to think of:
(
Review
) In which many of us are now begging Ann Aguirre to make
Thistle and Thorne
a real series.
(
other anthologies I've reviewed
)
Of course there are still novellas I do want to read... like those that give us the POV of another character: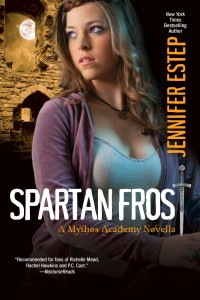 Yep, it's Logan's POV (I really need this one... yes, need LOL).
So, all in all I don't LOVE novellas, but they do serve their purpose. :) I enjoy them but usually end up wanting more. What about you? Novellas? Yea or nay?