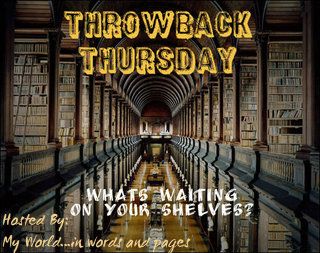 Meme hosted by Melissa
My World in Words and Pages
. It's about books that are already on the shelves and are waiting to be read. Go to her website to join in!
My submission this week:
To Kill a Warlock
Dulcie O'Neil #1
by H. P. Mallory
The murder of a dark arts warlock. A shape-shifting, ravenous creature on the loose. A devilishly handsome stranger sent to investigate. Sometimes working law enforcement for the Netherworld is a real bitch.
Dulcie O'Neil is a fairy. And not the type to frolic in gardens. She's a Regulator—a law-enforcement agent who monitors the creatures of the Netherworld to keep them from wreaking havoc in the mortal world. When a warlock is murdered and Dulcie was the last person to see him alive, she must uncover the truth before she's either deported back to the Netherworld, or she becomes the next victim.
Enter Knight Vander, a sinfully attractive investigator sent from the Netherworld to work the case with Dulcie. Between battling her attraction to her self-appointed partner, keeping a sadomasochistic demon in check, and fending off the advances of a sexy and powerful vampire, Dulcie's got her hands full. As the body count increases, Dulcie finds herself battling dark magic, reconnoitering in S&M clubs and suffering the greatest of all betrayals.
I'm kind of a sucker for a cartoonish UF/PNR book. It usually means snark to me... even if there is none there. However, I think there may be some humor to be had here.
Any humorous/snarky books on your tbr?