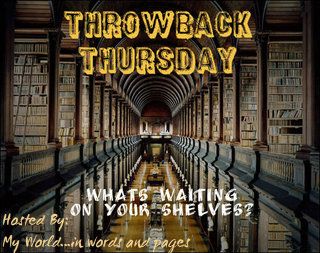 Meme hosted by Melissa
My World in Words and Pages
. It's about books that are already on the shelves and are waiting to be read. Go to her website to join in!
My submission this week:
Blood by Moonlight
by Jocelynn Drake
Terri Garey
Caris Roane
Just in time for the scariest season of all, three popular paranormal authors come together to tell original tales of romance where Anything can happen under a Halloween moon...
Tempers flare and passions rise in Jocelynn Drake's Of Monsters and Menas the local werewolf pack clashes with the Winter Court's Wild Hunt...
In Terri Garey's The Ghoul Next Door, a witch and a warlock battle it out for possession of a haunted house, but the ghost may have her own agenda...
And, in Trick or Treathen by Caris Roane, a master vampire struggles to stay away from the mortal woman who enflames his very soul.
I won this one and I can't wait to dive into this anthology.
Any anthologies on you tbr?