Lies Beneath
by Anne Greenwood Brown
tbp: June 12, 2012
Description:
Calder White lives in the cold, clear waters of Lake Superior, the only brother in a family of murderous mermaids. To survive, Calder and his sisters prey on humans, killing them to absorb their energy. But this summer the underwater clan targets Jason Hancock out of pure revenge. They blame Hancock for their mother's death and have been waiting a long time for him to return to his family's homestead on the lake. Hancock has a fear of water, so to lure him in, Calder sets out to seduce Hancock's daughter, Lily. Easy enough—especially as Calder has lots of practice using his irresistible good looks and charm on unsuspecting girls. Only this time Calder screws everything up: he falls for Lily—just as Lily starts to suspect that there's more to the monsters-in-the-lake legends than she ever imagined. And just as his sisters are losing patience with him.
Hemlock by Kathleen Peacock
tbp: June 7, 2012
Description:
Mackenzie and Amy were best friends. Until Amy was brutally murdered.

Since then, Mac's life has been turned upside down. She is being haunted by Amy in her dreams, and an extremist group called the Trackers has come to Mac's hometown of Hemlock to hunt down Amy's killer: A white werewolf.

Lupine syndrome—also known as the werewolf virus—is on the rise across the country. Many of the infected try to hide their symptoms, but bloodlust is not easy to control.

Wanting desperately to put an end to her nightmares, Mac decides to investigate Amy's murder herself. She discovers secrets lurking in the shadows of Hemlock, secrets about Amy's boyfriend, Jason, her good pal Kyle, and especially her late best friend. Mac is thrown into a maelstrom of violence and betrayal that puts her life at risk.

Kathleen Peacock's thrilling novel is the first in the Hemlock trilogy, a spellbinding urban fantasy series filled with provocative questions about prejudice, trust, lies, and love.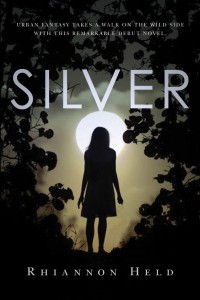 Silver by Rhiannon Held
tbp: June 2012
Description:
The Girl is Running. She's alone; a werewolf without a pack, a shape-changer who cannot change, an intruder in Roanoke's territory. It's Andrew Dare's job to catch her, expel her, or kill her. He's the enforcer, after all, in charge of security.

But when he catches her at last, he finds someone he wants to protect, not kill. A tortured stranger who needs him...and who warns of a threat to all the packs of North America.
So, what is on your wishlist this week?