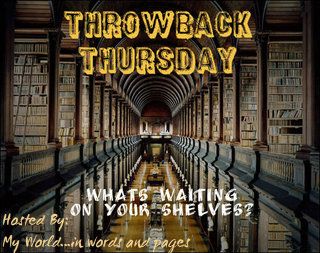 Meme hosted by Melissa
My World in Words and Pages
. It's about books that are already on the shelves and are waiting to be read. Go to her website to join in!
My submission this week:
Scarlet
by A. C. Gaughen
292p.
Publisher: Walker Childrens
Many readers know the tale of Robin Hood, but they will be swept away by this new version full of action, secrets, and romance.

Posing as one of Robin Hood's thieves to avoid the wrath of the evil Thief Taker Lord Gisbourne, Scarlet has kept her identity secret from all of Nottinghamshire. Only the Hood and his band know the truth: the agile thief posing as a whip of a boy is actually a fearless young woman with a secret past. Helping the people of Nottingham outwit the corrupt Sheriff of Nottingham could cost Scarlet her life as Gisbourne closes in.
It's only her fierce loyalty to Robin—whose quick smiles and sharp temper have the rare power to unsettle her—that keeps Scarlet going and makes this fight worth dying for.
I have the second coming up for review and I'm so glad I have this one... yes, I plan to read in order! :D I can't wait to dive into this series.
Any first in a series books on your tbr?