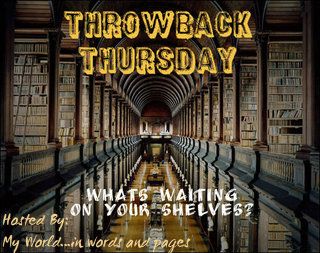 Meme hosted by Melissa
My World in Words and Pages
. It's about books that are already on the shelves and are waiting to be read. Go to her website to join in!
My submission this week:
The Peculiar
by Stefan Bachmann
read by Peter Altschuler
Publisher: Harper Audio
Don't get yourself noticed and you won't get yourself hanged.
In the faery slums of Bath, Bartholomew Kettle and his sister Hettie live by these words. Bartholomew and Hettie are changelings—Peculiars—and neither faeries nor humans want anything to do with them.
One day a mysterious lady in a plum-colored dress comes gliding down Old Crow Alley. Bartholomew watches her through his window. Who is she? What does she want? And when Bartholomew witnesses the lady whisking away, in a whirling ring of feathers, the boy who lives across the alley—Bartholomew forgets the rules and gets himself noticed.
First he's noticed by the lady in plum herself, then by something darkly magical and mysterious, by Jack Box and the Raggedy Man, by the powerful Mr. Lickerish... and by Arthur Jelliby, a young man trying to slip through the world unnoticed, too, and who, against all odds, offers Bartholomew friendship and a way to belong.
Part murder mystery, part gothic fantasy, part steampunk adventure, The Peculiar is Stefan Bachmann's riveting, inventive, and unforgettable debut novel.
Yep, another audio free from
SYNC
(if it's not up right away then just wait, it should be soon)! I've been curious about this one and it is free starting today! Just so to the
SYNC
website to get it. This one is open to everyone. Yep, it's international!
So, any good fae books on your tbr?
Note: Nope, I'm not affiliated in any way with SYNC or the publisher or the author... just like freebies and telling ya about them. :D