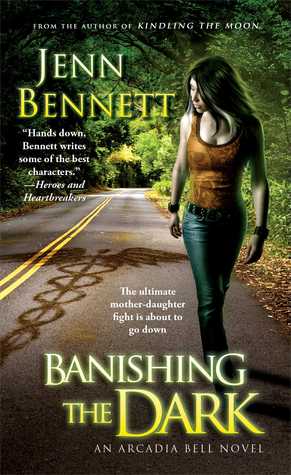 Series: Arcadia Bell #4 (final)
384p.
Published: 5/27/14
Publisher: Pocket Books
Source: From publisher for review
Complicated does not begin to describe Arcadia Bell's life right now: unnatural magical power, another brush with death, and a murderous mother who's not only overbearing but determined to take permanent possession of Cady's body. Forced to delve deep into the mystery surrounding her own birth, Cady must uncover which evil spell her parents cast during her conception…and how to reverse it. Fast. As she and her lover Lon embark on a dangerous journey through her magical past, Lon's teenage son Jupe sneaks off for his own investigation. Each family secret they uncover is darker than the last, and Cady, who has worn many identities—Moonchild, mage, fugitive—is about to add one more to the list.
My thoughts:
I didn't realize this was the final book until I got to the end and there was an epilogue. There was no question that this is the final book to the series. This knowledge totally bummed me out since I just love these characters so much. As I have said before, you rarely get parental involvement in this genre, but you have it here with Lon and even Cady who loves Jupe as much as the rest of the readers. So nice to see a good family unit.
In this final book, she is still seeking knowledge of what her parents did to conceive her. Trying to find out not who she is, but what. I don't want to give more away than that since some of you aren't quite up to this book. Oh and why not? Seriously, those that haven't read this series really need to get on it. You only have 4 books and all are filled with adventure and people to care about. /side note... ;) Anyhoo... back to this story... The book is adventure to the end and everything is wrapped up. You aren't left wondering what happened, but are fulfilled in the questions you were seeking with Cady. The only feeling you are left with that could be considered bad is not wanting to let them go knowing that with Jupe there HAS to be more adventure awaiting them. :) Still, it is satisfying and you do get a peek into the future with that epilogue.
I give this final book 4 1/2 stars. This is a wonderful series and I can't wait to see what she comes up with next. I still need to read the Roaring 20s series and I do think I will have to get on that to get my Jenn Bennett writing fix. :)